Personal Injury & Wrongful Death
We represent individuals who have been injured as a result of the improper actions of other people or entities in the following types of personal injury matters:
Automobile and motorcycle accidents
Uninsured/Underinsured motorist claims
Bicycle accidents
Truck accidents
Construction accidents
Workplace injuries
Wrongful death
Medical malpractice
Traumatic brain injury (TBI)
Product liability/defective products
Premises liability
Dog bites/animal attacks
At Blumenfield & Shereff, we have more than 35 years experience helping our clients and their families obtain just and fair compensation for their injuries. We take a personal approach to every case. Each client is represented by a partner who has extensive experience handling and, if necessary, going to trial.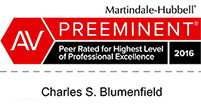 Contact us to arrange a no obligation meeting to discuss your case.