Our attorneys have more than 35 years of experience successfully representing clients in civil litigation. Our civil litigation practice includes the following:
General Business Litigation, including covenants not to compete, property and contract disputes.
Intellectual Property Litigation, including Trademark Oppositions and Cancellations
Personal Injury /Wrongful Death, including motor vehicle accidents, motorcycle accidents, slip-and-falls, and dog bites.
Professional Discipline, including representing lawyers subject to discipline before the Office of Lawyer Regulation.
Administrative Hearings before the Police & Fire Commission, University of Wisconsin Disciplinary Hearing Committee, Wisconsin Department of Transportation, Department of Safety and Professional Services, and others.
Mediation and Arbitration
The attorneys at Blumenfield & Shereff value communication as an effective tool to provide personalized representation to our civil litigation clients.  We work hard to achieve the best results possible while controlling costs.
Charles Blumenfield, founding partner and head of our litigation practice, is Board Certified as a Civil Trial Advocate by the National Board of Trial Advocacy, and has counseled clients for over 35 years.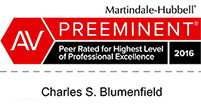 Contact us to inquire how we can assist with your Litigation needs.
Recent Articles:
DRONES, GPS & HIPAA: Attorney Charles Blumenfield Presents on Privacy Law