Attorney Charles Blumenfield has been defending those accused of serious crimes, including Driving Under the Influence (DUI), for more than 35 years. His service as a Prosecutor, Special Prosecutor, and Municipal Judge provides him with a unique insight into the defense of criminal cases and DUI matters.
DUI is a serious charge with potentially life-altering impact. In addition to fines and criminal charges, a person arrested for DUI may face an administrative proceeding which can lead to the suspension of their driver's license. Refusal to take a breathalyzer or blood test can result in additional, more serious penalties. Under certain circumstances, even though a driver refuses, an officer can require a blood test.
This is an evolving area of the law as the State of Wisconsin continues to toughen penalties in the hope of saving lives. The result is that individuals face more serious consequences than ever before. 
Attorney Blumenfield has been recognized as an outstanding criminal defense lawyer, and has achieved success representing those accused of Driving Under the Influence. If you are accused of a DUI offense in Wisconsin, contact us so we can guide you through the challenges of a DUI charge.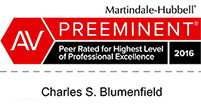 Recent Articles:
Attorney Charles Blumenfield Moderates Criminal Law Conference