Committed to Client Service
Blumenfield & Shereff, LLP is a law firm representing clients in Litigation and Intellectual Property matters. We represent individuals and businesses in Wisconsin, the United States and in 25 foreign countries. We provide sophisticated and effective client-centered representation, and develop long-term working relationships with our clients through the delivery of practical and sound legal advice, excellent legal work, and being responsive to the needs of our clients.
We Represent Clients Seeking To Protect Their Intellectual Property
At Blumenfield and Shereff, we provide high quality, personalized legal services to entrepreneurs and businesses seeking to build and manage their intellectual property portfolios. Our clients receive hands-on legal counsel in connection with domestic and international trademarks, copyrights, and related transactional services from a partner with over 20 years of experience. We work closely with each client to achieve an understanding of their business in order to provide solutions which are client-centered, strategic, and cost-effective.
We Offer A Wide Range of Litigation Services
At Blumenfield & Shereff, we provide clients with professional, personalized representation in civil and criminal litigation.   The experience of our litigators includes decades of practice with private law firms, as well as service as a municipal judge, and as a prosecutor. We represent clients in business litigation, personal injury, wrongful death, juvenile matters, professional discipline, intellectual property litigation, and administrative matters, white collar crime, felonies, misdemeanors, Driving Under the Influence (DUI) and traffic violations.  Our extensive experience has resulted in our client's receiving large personal injury verdicts and settlements.  We have achieved dismissal on behalf of our clients who have been accused of crimes – from the most serious (First Degree Intentional Homicide) to drunk driving (DUI) and traffic offenses.
Contact us to inquire how we can assist you.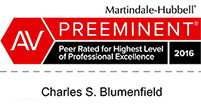 Committed to the Community
Blumenfield & Shereff is proud to support the following community causes: