Attorney Charles Blumenfield has been defending those accused of serious crimes for more than 35 years. His service as a Prosecutor, Special Prosecutor, and Municipal Judge provides him with a unique insight into defense of criminal cases.  In 2010, Chuck was awarded the Martin Hanson Advocate Prize by the Wisconsin Association of Criminal Defense Lawyers for obtaining the acquittal of a client accused of First Degree Intentional Homicide. With experience in both state and federal courts, Attorney Blumenfield can assist with your defense, including:
White Collar Crime
Felonies
Misdemeanors
Operating Under the Influence (OWI)
Traffic Violations
Juvenile Offenses
Drug Offenses
Domestic Violence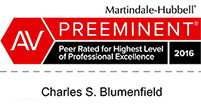 Contact us to discuss your case.
Recent Articles:
Attorney Charles Blumenfield Moderates Criminal Law Conference
Charles Blumenfield named Wisconsin Super Lawyer for 2015
DRONES, GPS & HIPAA: Attorney Charles Blumenfield Presents on Privacy Law